I Support Thirty on 30 Blog Contest!
Listen up people! I just want to invite you to BlankPixel's aka Mhel blog contest as a celebration for her 30th birthday. I am not just joining this but I also support it. I am one of the general sponsors of this event and I am so proud of it.
If you want to interact with a lot of bloggers then I suggest that you must join in. 300 USD is the total amount of the prizes except for cellphone loads, shirts, and SM GCs (Ms. Mhel is very generous!)
Below is the complete list of the over all sponsors in the said contest. This is like a league of supportive and generous blogger friends.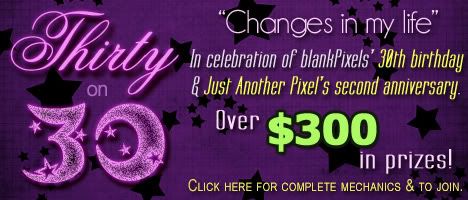 Primary Sponsors

● Everything Nice! ● News Break Online ● Fat Girl No More ● Written by Mys ●
● My Thoughts, My Heart, My Turf ● ZoWanderer ● Just the Tip of an IceBerg ●
● Just About Anything ● Blogger Manila ● Dress Up Your Blogs ● Pinay Mom ●
● Certified Foodies ● Pinay Online Money Maker ● Pinay Reviewer ●

Secondary Sponsors

● Georyl: Blogging with my Heart ● Pop Ups of My Mind ● Blog Tactic ● Grace in Creative Life ●

General Sponsors

● Make Money Online and Beyond ● One Proud Momma ● Lover Mushroom ● Plate and Me ● Paula's Home ● Make More Money Online ● The Miscellaneous Me ● Here, There and Everywhere ● Travels and Explorations ● Musings of Life ● Kharen's Corner ● It's Kha ● Noypistuff ● Jennyholic, Confession of an Addict ● Deej Speaks ● Techie Things ● Cups and Lowercase ● Live for Live ● Experience of a Super Mom ● Sharing my Thoughts ● Yashiro's Journal ● Table for Five ● Internet Cafe Blog ● blankPixels – The Geek Side ●
So what are you waiting for? Join now!